Imran Khan, the leader of the Pakistan Tehreek-e-Insaaf (PTI), was arrested under the ATA after allegedly threatening a sessions court judge and senior police officers during a public gathering in the federal capital. The Islamabad High Court (IHC) dismissed the terrorism charges against Khan on Monday.
The PTI head is still facing additional allegations in the case, though. Imran had requested that the IHC dismiss the terrorism-related accusations brought against him. The Joint Investigation Team (JIT) report was read aloud in court at today's hearing, which established the validity of Imran's terrorism case.
If the terrorism accusations were appropriate or not, the court had requested information from the JIT, which the investigating team determined to be true.
The court was informed by Special Prosecutor Raja Rizwan Abbasi that the terrorism section is applicable and that a challan has also been drafted for the case. Salman Safdar, Imran's attorney, countered that the terrorism allegation must satisfy a few fundamental requirements, which he contended were not accomplished in this instance.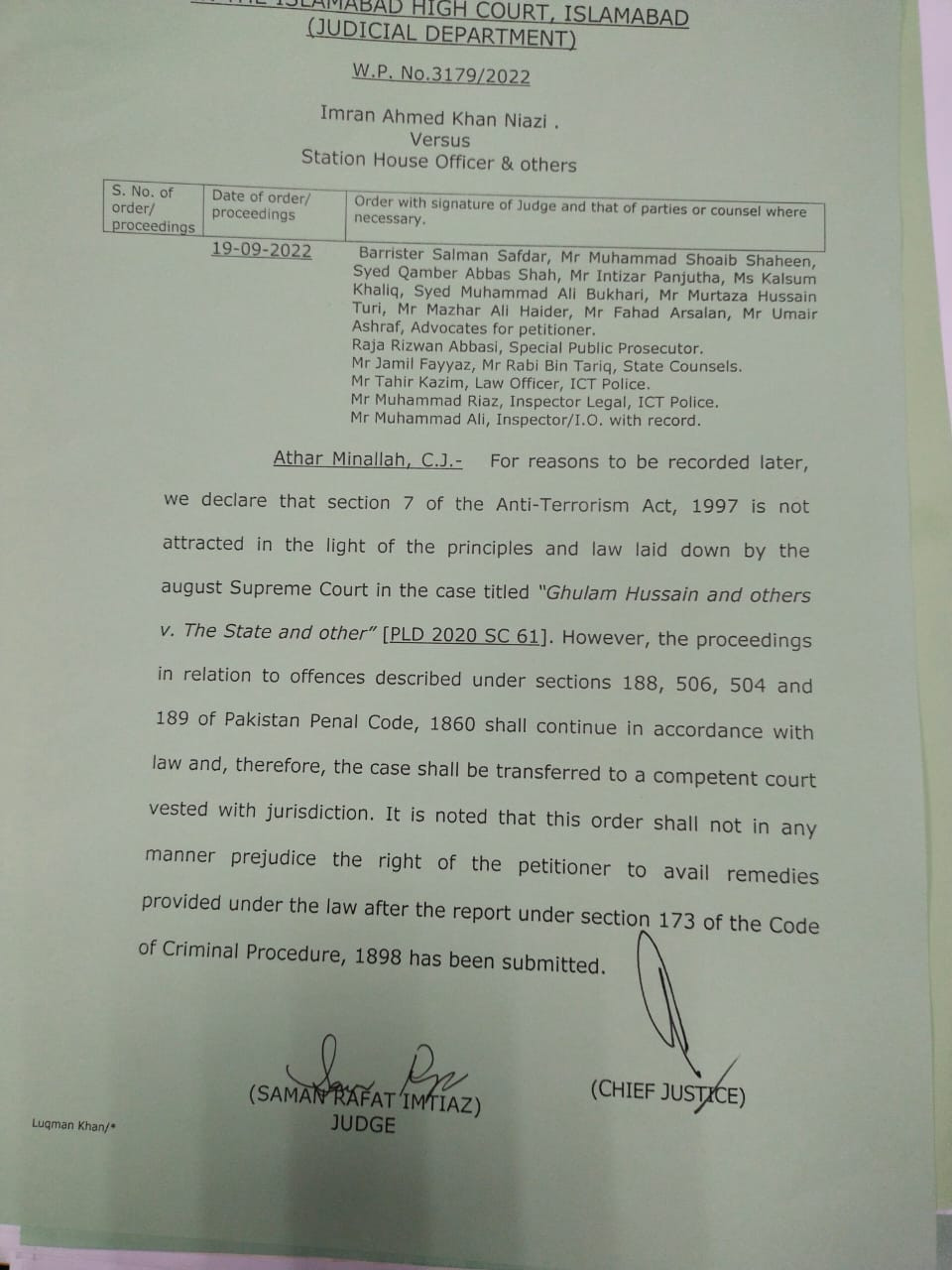 A justifiable request would have in that scenario "came from those who were targeted in the statement," he continued, adding that "a case for terrorism can only be presented when an atmosphere of fear and terror has been created, not at the mere potential of such an atmosphere being created."
The PTI chief's bail in the terrorism case against him had previously been extended last week by an anti-terrorism court (ATC) in the federal capital until September 20. In addition, Imran has regularly neglected to appear before the JIT looking into the case brought against him at the Margalla police station in Islamabad under section 7 of the Anti-Terrorism Act (ATA).
According to police sources, the PTI leader had to get personally involved in the probe after Imran was granted a temporary bail.